Precise and digital

applicant selection
---
Fast application processes can give you a decisive time advantage in your recruitment process. Online assessments enable valid, reliable and fast decision-making. They provide additional information and thus enhance the precision of the selection process.
An online assessment is always based on previously created job profiles. Valid and reliable test procedures are combined in a goal-oriented and individual way. Personality tests provide information about the fit of a candidate to the organization and the team, as well as the expected way of working. Intelligence or performance tests evaluate the ability to process complex information. A leadership test can provide further insight into the expected leadership behaviour.
With the individually designed psychological diagnostics you will get a comprehensive picture of your potential employees. You can make well-founded and precise selection decisions and enter the interview phase with a large information advantage. You also gain valuable insights for smooth onboarding. In this way, wrong choices can be avoided and the performance of your company can be maintained.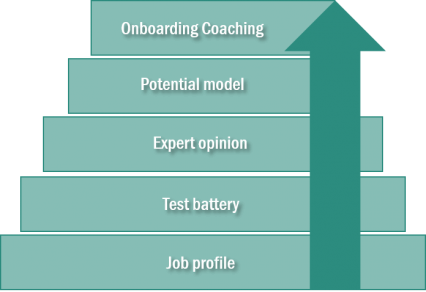 Our experienced personnel consultant and business psychologist creates a report based on the results of the online assessment. The scope of the assessment is defined together in advance. The information remains in the hands of the testing psychologist during the entire process. Data security is guaranteed at the highest level.